For those who may not know, London's Fourth Plinth is located in Trafalgar Square. The other three plinths, or platforms, contain sculptures of military officers: Henry Havelock, Charles James Napier, and King George IV. However, the fourth remained empty due to a lack of funding, unused for 150 years. That is until London's Royal Society of the Arts developed the Fourth Plinth Project. The project maintains a revolving public art exhibit in order to celebrate, question, and engage with the world today through art-making. In fact, the Fourth Plinth hosts a series of commissioned artworks by world class artists and is the most talked about contemporary art prize in the UK. 
So, what is on exhibit now?
On March 28th, Michael Rakowitz's "The Enemy Should Not Exist," was unveiled. The work "depicts a re-creation of Lamassu, an Assyrian statue that stood in Iraq in the ancient city of Nineveh, on the outskirts of modern-day Mosul, until 2015 when the militant group destroyed it along with other irreplaceable works of ancient art." The work is made of 10,500 recycled cans of syrup made from dates (dates being an important export of Iraq).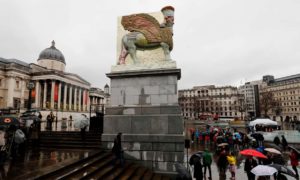 Mayor of London, Sadiq Khan, stated: "One of the reasons we should be so proud is this piece of art is from an Iraqi American of Jewish faith to be displayed in the greatest city in the world … And the creation and installation of this piece of art is an act of resistance against the tyranny of religious fanaticism. It is an act of resistance against the acts of philistinism. But it is also a celebration of who we are as a city: confident in who we are, pluralistic, welcoming and diverse."